Recently I have been doing a lot of thrift store shopping... and I would love to share all that goodness with y'all, but I figured you should hear it from the MASTER. So please let me introduce you to my dear friend Beth from MoreFunMom.com.
...........................................................................................................................
Right now, I'm wearing Ralph Lauren jeans and a sweater from Banana Republic. This outfit cost me $5. (Unless you count the underwear, which I never do.)
Thrift store piracy, people. It's how you rock name brands and pay less than you would for lunch.
My mother is the ultimate thrift store pirate—piracy is a family business. She dragged me by my chubby arm to the thrift store from the time I was a babe. I whined the entire way, of course. I sat griping in her cart as she scoured for deals. I cried and pleaded to go home, because Teenage Mutant Ninja Turtles was on.
But I learned. Oh yes, I learned. One day I realized that thrift stores were pretty much my personal Promised Land. And now, I will pass the knowledge of thrift piracy along to you! So here they are—my rules.
1.
Pirate from the rich.
Thrift stores get their merchandise from the people who drop off their used goods at the door. Therefore, you can bet that the richer the droppers, the nicer the merchandise. So hit the stores in the swanky neighborhoods to score the best stuff. That's how I end up wearing a lot of my three fave brands (J. Crew, Ann Taylor and Banana Republic, in case you were curious).
Sweater by Jones New York. Skirt by Ann Taylor. Boots by Bellando. Total outfit cost: $7. (Hence the face.)
This price tag came still attached to that leopard-print skirt I'm wearing. Yep, originally $69.00. Never been worn.
2.
Pirate at the peak times.
Thrift stores hold sales. This is key, people, because if you go on the sales days, you can save
big-time.
For instance, I recently went to a 99-cent Sweater Sale and got sweaters for my entire family for $16. If I had gone to that same store on a normal day, though, I would have spent $75. Check around minor holidays like President's Day or Labor Day—there are often half-off sales at those times. The ARC is half-off every Saturday, and Goodwill is half-off every other Saturday. And keep your eyes peeled for special sales too, which stores will run to clear out merchandise.
3.
Pirate in the off-season.
The worst time to buy anything is when you really need it. You'll end up paying more and settling for things that aren't quite right. So think ahead to your needs for the upcoming year when you head to the thrift store. You might find a great winter coat in June or a grill in December. Personally, I always check the children's books section and stock up on barely-used books to give my daughter for Christmas.
4.
Put your booty in the cart.
I know if you're trying to be frugal in a regular store, and you see something you want, it's a good idea to leave it on the rack, circle the store, maybe even come back next week if you still want it. Not so in a thrift store. If you are considering an item,
put it in the cart
. Then consider. Because if you leave it on the rack, when you circle back, chances are, it'll be gone.
5.
Consider your treasure before you carry it home.
Inspect everything carefully before you buy. Look for rips, missing buttons, zippers that don't work right, wear and tear. Don't compromise. Don't settle if something doesn't fit right or isn't exactly what you wanted, but will do. If you're not really handy with a needle, don't kid yourself into thinking you'll just hem the pants and they'll be fine. (On the other hand, if you know how to work a sewing machine, go for the pants!)
6.
Be patient pirates.
You have to be patient if you really want to score big stuff. I wanted a couch—not just any couch, but a large, tan, microfiber couch in good condition—for over a year before my mother found one at the Goodwill for something like $75. So go pirating with an attitude that you don't
have
to come home with the thing you want today. (Otherwise, again, you risk settling.)
7.
Make your piracy mean more.
If the only reason you're being frugal is so you can save yourself a few dollars, I gotta tell you I don't really think it's worth it. Be frugal so you can be generous. If you know you can get great winter coats for just a few bucks, don't hesitate to give yours to that shivering lady holding a sign on the street corner. Stock up on kids' clothes to donate to clothing drives. If you see something you think a friend could use or love, pick it up for them. Then your frugality will really make a difference in the world.
Happy pirating, everyone!
...........................................................................................................................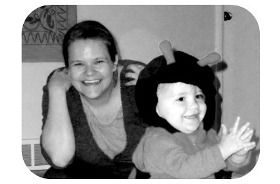 Beth is Mama to one booty-shaking, play-doh smashing, curry-gobbling, kitty-loving Sweet Pea. She writes about frugality, intentional parenting, and finding deeper joy at www.morefunmom.com.