I chose to take a while to write this post because I really needed to take some time and process everything. To be honest, I think I'm still trying to process it all.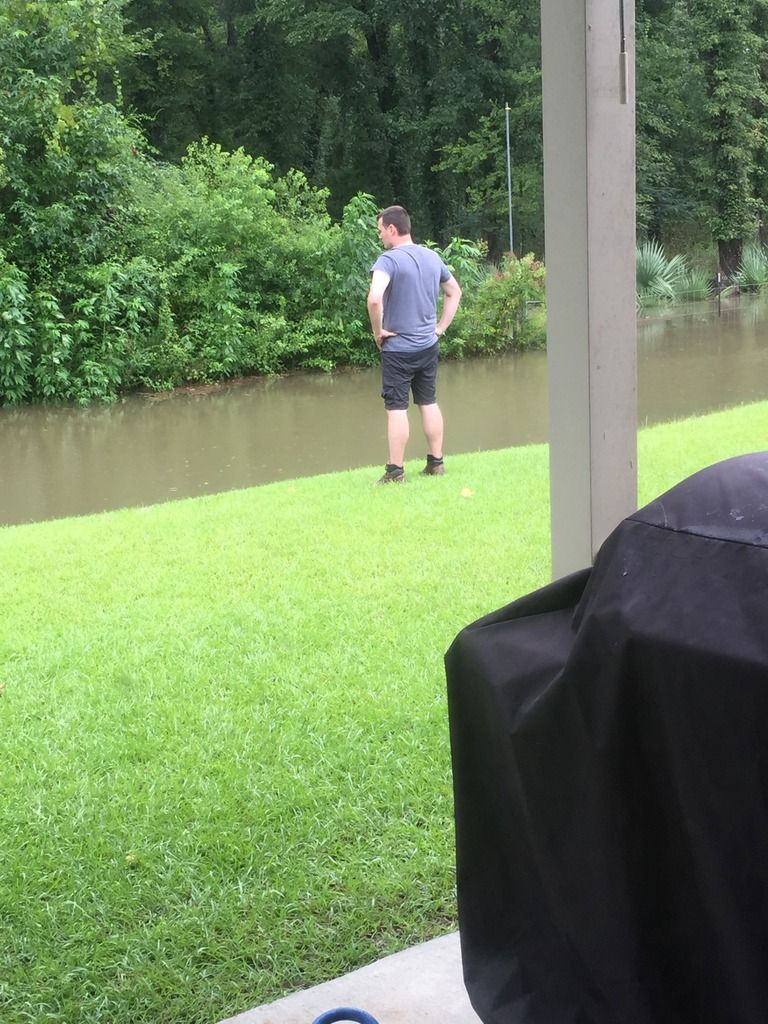 When the rain started we didn't think much of it... our backyard is extremely steep to help with the fact that we are backed up to a bayou. When it rains, our yard usually has a little fast moving stream. But the rain didn't stop. It just rained harder. It didn't take long for half our backyard to be under water. Looking out our window, you can see our neighbors acreage with goats. Except that you couldn't see the goats, land, or even bushes anymore. It was
very
clear that the bayou was now IN our backyard. And that included all the water moccasins. Thankfully, Andy the 6 foot gator, decided he wanted to stay in our neighbor's backyard, and not come visit us 200 feet away.
As the water inched higher and higher, we packed. We packed a bug-out bag with a set of clothing, formula, diapers, baby food, and dairy free snacks. We also quickly packed for our Michigan trip that was suppose to happen a couple days later. We figured if we needed to be rescued by boat, we had the bug-out bag; but if we evacuated, we were going to take it all and just head to Michigan early.
After a while the rain stopped, but apparently that didn't mean the threat was over. Now we had to wait until the rivers crested to see if we would flood even more. The rivers did crest, and most of our parish flooded. So now, north of Baton Rouge was basically gone, most of Baton Rouge flooded, and our parish was flooding. To top it all off, AT&T went down, so all these people (including my hubby) couldn't contact anyone, or call for help. We were still ok, and still had one road open if we needed to evacuate.
Tuesday, things seemed to be calming. Cell service was back up, so Justin decided to go to work. Most of the roads were still flooded, so it took him a while to get there. He was there half a day, and realized that the flood waters were still moving. Our parish was closing down main roads due to the flooding. So he called me, told me to load up, he was on his way home, and that we were going to evacuate. He got home, we threw our stuff in the minivan, grabbed the boys, and left.
We spent that night in a hotel in New Orleans, and the next morning grabbed a plane to Michigan.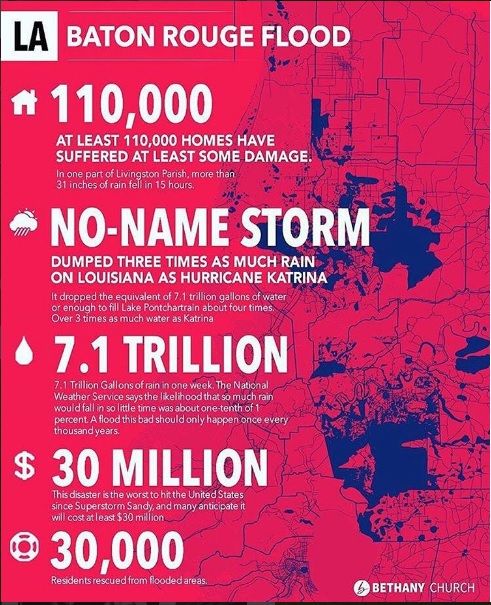 Photo credit to Bethany Church Instagram
Y'all. God. Is. SO. Good.
When we left Tennessee, it was in complete obedience to God. I didn't want to leave Tennessee, but I knew without a doubt that God was calling us to Louisiana. Wasn't sure why, still not sure why. But I know that for walking in obedience with Him, He has blessed us over and over. We prayed a lot about the house we were going to buy here. We looked at houses in the middle of Baton Rouge, we looked at houses just outside of Baton Rouge. Then there was this house. We had it narrowed down to two houses: the house we currently live in, and a house we lovingly called the rainbow house because every room was painted a different primary color. We ultimately decided on our house. Every house, every neighborhood that we looked at flooded. Flooded big time. Some several feet. The rainbow house even flooded. Our house stayed dry. We lost nothing but a bit of grass in our backyard. Not even the soccer ball that Jo left in the backyard was lost. Half a mile away from us in every direction, people have their homes gutted, and sitting at the curb. As I'm typing this, people are still waiting for water to recede from their homes. So many of our friends are living with extended family because their houses are full of water, mud, and mold.
We are just fine. God is so good.
But you know what? Even if we lost everything. God would still be good. Our stuff is just stuff, and it all belongs to Him anyway. He is a BIG God. He blessed us with it all, and He can take it all away.
Our Sunday in Michigan we went to church with Justin's family. We sang a song about "opening up the flood gates." After actually experiencing a flood this has so much more meaning than God just filling you up with Him. When a flood happens it wrecks
everything
. The old must be ripped out, and replaced with new. When you ask the Lord to open the floodgates, you are asking Him to ruin you, and make you new with His power.
God, you are Good.